Job Opportunities At Mbeya City Council – 300 Posts:- Mbeya City Council is one among the seven (7) Councils in Mbeya Region, others being Chunya, Mbarali, Kyela, Rungwe, Busokel and Mbeya District.
Download our APP from Google Playstore using the link CLICK HERE
It has both the highway Tanzania- Zambia road (TANZAM) and the railway line Tanzania – Zambia Railway Authority (TAZARA) linking Tanzania to Southern African countries, which passes through the City making it one of the famous and important entry and exit points in the country.
The City has also additional functions as the District and Region Head Quarters. Moreover the availability of infrastructure in the City, labour supply, land, reliable water supply and electricity, air port, Good Governance and markets create good environment for investments both Local and Foreign.
According to the 2012 National Census, Mbeya City Council had a total population of 385,279 in habitants, out of which 182,620 (47%) are male and 202,659(53%) are female.
The city population growth rate is 4% compared to the national average of 2.7%. With the population growth rate of 4% we have about 400,690 people by projection of 2014, whereby male are 189,925 and women are 210,765.
Mbeya is a city in southwest Tanzania. It sits at the base of soaring Loleza Peak, between the Mbeya and Poroto mountain ranges. On the town's outskirts is Lake Ngozi, a huge crater lake surrounded by dense forest rich in birdlife.
Kitulo Plateau National Park, southeast of the city, is known for its colorful wild flowers. Farther south is Matema Beach, a resort town on the shores of the vast, fish-filled Lake Nyasa.
Job opportunities at Mbeya City Council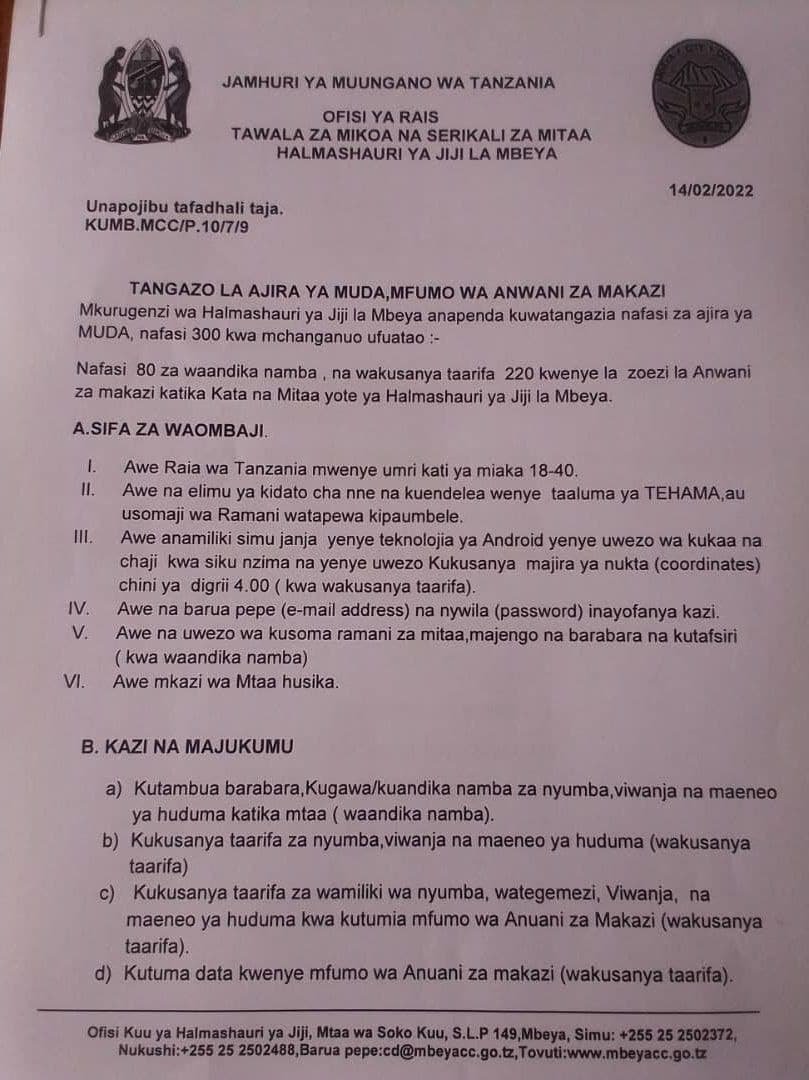 Download our APP from Google Playstore using the link CLICK HERE
Download our APP from Google Playstore using the link CLICK HERE
Join Our Telegram Group for Daily Updates CLICK HERE