HOW TO USE NAMNA YA KUJIUNGA NA KUTUMIA AzamPesa
The largest and most widespread company in Tanzania and the neighboring country 'Bakhresa Group' has brought to market a new financial service known as 'Azam Pesa'.
This service is similar to other M-Pesa, Airtel Money, Tigo Pesa and the like services.
To better understand this service, I will go into the FAQ style and then the answers.
IN TANZANIA
There are six mobile network operators offering mobile money services in Tanzania: Vodacom with M-Pesa (39%), Tigo with Tigo Pesa (30%), Airtel with Airtel Money (20%), Halotel with Halopesa (7%), TTCL (3%), and Zantel with Ezy Pesa (1%).
In 2020, Tanzania's mobile money penetration reached 53% with 29.7 million mobile money subscriptions, with a $81 billion transaction value. In June of the same year, 272,339,270 mobile money transactions took place, for a total value of $4.6 billion.
Have Azam started their mobile network?
No. Azam has not yet set up its own network like several telecommunications companies in the country.
But AzamPesa has entered into agreements with some networks to facilitate access to services through the lines of such networks.
So far AzamPesa has agreed with Tigo, Airtel and Zantel. Thus this service is available in the lines of the mentioned networks.
Vodacom, Halotel and other networks are still in talks. When they agree then this service will be enabled in those lines.
YOU CAN ALSO READ
Does this service apply and what?
As with other services, this service deals with;
1.Send Money
2.Giving Money
3.Pay the bill
4.Pay for Azam products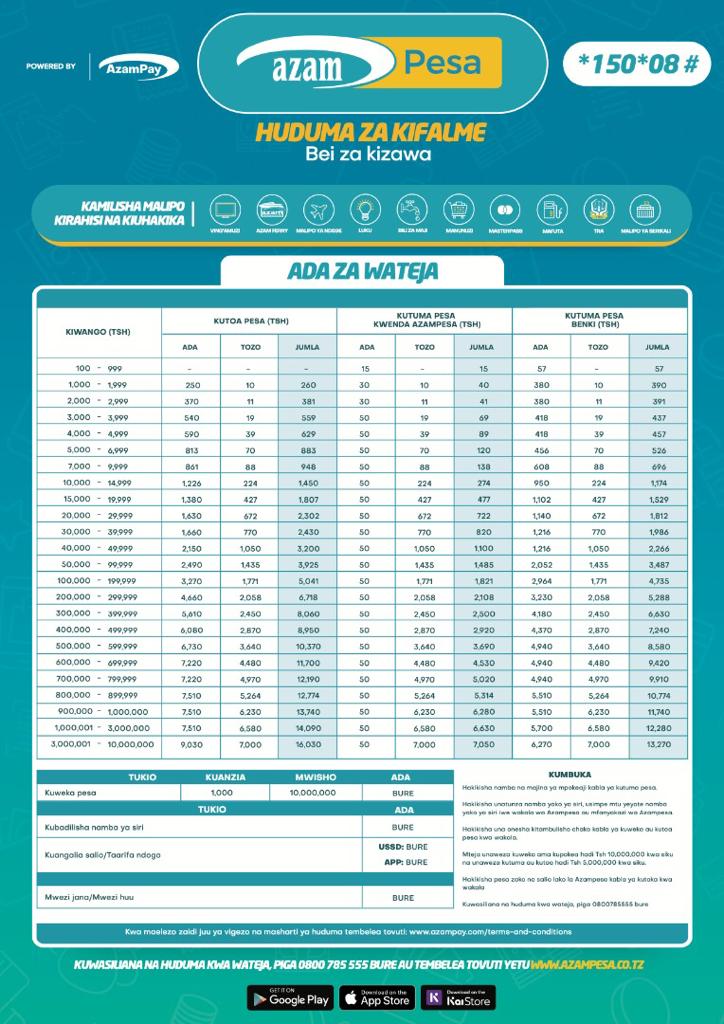 Has this service started working?
Yes, this service is already working for all registered customers.
How do I subscribe to this service?
Arrive at the agent shop and be able to register. All that is required is your phone number as well as your NIDA number. Within two minutes you will already be registered as a customer of AzamPesa.
Can the service get Azam 'special' bundles' packages?
No. As I mentioned above that Azam has not yet set up their own network so the issue of packages remains the decision of the respective network.
Where do I get this service?
This service is available in all regions of Tanzania. Although it is not yet widespread but its availability in many urban areas is guaranteed.
What is the 'ussd' menu of AzamPesa?
Once registered, you will change the password. So you will dial *150*08# and be able to access AzamPesa service.
If you have any questions regarding AzamPesa services, then welcome.
It is time to swell with @AzamPesa, a new financial service in Tanzania.
Deposit, send, receive and withdraw money, make product payments & bills.
Please register with our agent with only three items;
1. Phone📱
2. NIDA 💳
3. Dole Gumba / thumb 👍🏾
@azampesa @azampesa @azampesa
#AzamPesa #HudumazaKifalme #BeizaKizawa
YOU CAN ALSO READ